Product
*Lubricant Pails, Grease pails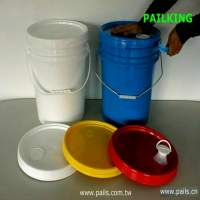 *Lubricant Pails, Grease pails
Product ID: PK5G
To aid in recycling, we offer all-plastic pail, handle and flexible pull spout.
Easy to use, eliminates surge
and offers a smooth pour.
· All plastic and rust-free.
· Environmentally friendly, fully recyclable.
· Collapsible for easy stacking.
· Sturdy and durable.
· Large bail for easy pull-up.
· Resealable screw cap.
· Push pull-up-spout down for storage.
· Customized logos available.
All PAILKING® plastic pails/containers are made of strong and durable Polypropylene (PP) or High Density Polyethylene (HDPE) resin.
Features:
* Injection molded in one piece with reinforced ribs for extra strength.
No metal parts means rustproof and long life.
Lightweight, long wearing and reusable.
No seams and won't dent.
More cost-effective than metal pails.
Empty pail nest for low-cost stacking and shipping.
Comply with International Transportation codes.