Product
*Screw Boxes, Nail Pails, Fastners, Hardware Containers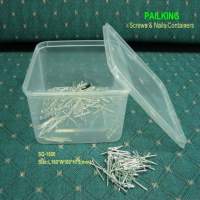 SQ1500*Screw Boxes, Nail Pails, Hardware Containers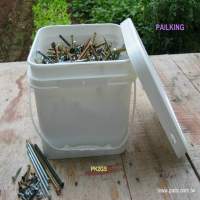 PKS2G *Screw Boxes, Nail Pails, Hardware Containers
Product ID: SQ1500 & PKS2G
All PAILKING plastic pails have passed rigid quality tests. Our accumulated production, well over 100 million of pails, testifies to the satisfaction of customers worldwide!
* Injection molded in one piece with reinforced ribs for extra strength.
* No metal parts means rustproof and long life.
* Lightweight, long wearing and reusable.
* No seams and won't dent.

PK Series
More Durable:
o Complying with UN standards, strong, rust-free, seamless & impact-resistant.
· Money-Saving:
o Can be stacked for easy storage, saving warehousing & transportation costs.
· Better Advertisement:
o High-quality printing on the pails for effective long-term advertising.
· Safer:
o Easy-Tear strip ensures easy opening; when used for liquids, the pull-up spout adds to your protection.
· Environmentally Friendly:
o Recyclable; consumers can use the pails for other purposes.
for other purposes.

SQ1500
*Light weight & economic series.
Specifications:
Standard Sizes: 1500ml-8000ml
Please inquire if you are looking for particular capacities and specifications.