Product
Cushion pail, Leisure Pails, Travel Pails, Hunting Pails, Fishing Pails, Camping Pails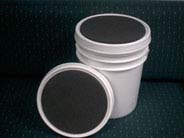 Leisure Pails
Product ID: 3.5G Seat Pails, 5G Cushion Pails, 6G Seat Pails
With its tight seal and light weight, this utility pail now comes with a pouffe for your convenience and comfort. Excellent for outdoor activities, it can be used as a stool, for storage, for advertising, as giveaways, etc. Indispensable for every household, every car!
Specifications:
3.5G Pails, 5G Pails, 6G Pails
Features:
As a pouffe stool

Padded with a soft cushion for your best comfort!

As a storage pail

Waterproof and with an air-tight seal, keeping the content, including liquids, from ants and other insects!

As a water bucket

Made of impact-resistant material, light-weight, rust free and no denting!

And more

These are just some of the possibilities for Leisure pail applications you can imagine. Tell us your usage!