Product
8L Plastic square pails, Square buckets, Food boxes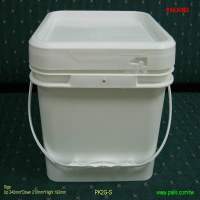 2G Plastic square pails, Square buckets
Product ID: PKS2G
All PAILKING® plastic pails/containers are made of strong and durable Polypropylene (PP) or High Density Polyethylene (HDPE) resin.
Features:
* Injection molded in one piece with reinforced ribs for extra strength.
* No metal parts means rustproof and long life.
* Lightweight, long wearing and reusable.
* No seams and won't dent.
* More cost-effective than metal pails.
* Empty pail nest for low-cost stacking and shipping.
* To aid in recycling, we offer all-plastic pail, handle and flexible pull spout.
* Comply with International Transportation codes.
* All PAILKING™ pails are manufactured from F.D.A. approved materials.